SPIGEN Neo Hybrid Samsung Galaxy S6 Metal Slate Case
Exclusive SPIGEN SGP soft clear cases offer unparalleled comfort and elegance. They are made of premium polycarbonate material, scratch and break resistant. the case perfectly protects your phone against drops and scratches.
Easy return of products within

14

days from the date of purchase without giving reasons
ORYGINALNE ETUI SPIGEN SGP
NEO HYBRID
do SAMSUNG GALAXY S6
Etui Neo Hybrid do Samsung Galaxy S6 - przedstawia nową jakość, którą daje nakładka ochronna. Zaprojektowane jest  z myślą o każdym detalu tak, aby zapewnić pełne bezpieczeństwo Twojego Galaxy S6. Składa się z twardej polikarbonowej ramki odpornej na promieniowanie UV oraz elastycznej obudowy wykonanej z wysokiej jakości tworzywa sztucznego. Dzięki smukłej strukturze etui telefon idealnie leży w dłoni, natomiast powierzchnia tylnej części pokrowca posiada teksturę, która sprawi, że telefon łatwo się nie wyślizgnie. Metalizowane przyciski wraz z prześwitami metalicznych elementów urządzenia nadają nowoczesny, elegancki wygląd. Obudowa posiada konstrukcję sieci pajęczej, która absorbuje siłę uderzenia i rozprowadza ją po równo we wszystkich kierunkach.
Cechy produktu:
- Zaawansowania technologia amortyzowania uderzeń:  tworzywo TPU o strukturze "sieci pajęczej" 
- Ochronna, etui wykonanane z  TPU oraz poliwęglanu zapewniająca podwójną ochronę
- smukłe, lekkie – idealnie dopasowane do modelu telefonu, zaprojektowane z myślą o każdym detalu tak, aby podkreślać oryginalny design urządzenia.
- metaliczne wykończenia – ramka oraz metalizowany poliwęglan przycisków
- narożniki z technologią "poduszki powietrznej" chroniącą  przy upadku urządzenia
- model chroniący ekran urządzenia leżącego ekranem do dołu
- ramka z 0.8 mm krawędzią wysuniętą ponad wyświetlacz - chroni, gdy telefon leży ekranem do dołu.
- kompatybilne z Samsung Galaxy S6
UWAŻAJ NA TANIE PODRÓBKI!!
U NAS 100% ORYGINALNE AKCESORIA !
GWARANCJA PRODUCENTA!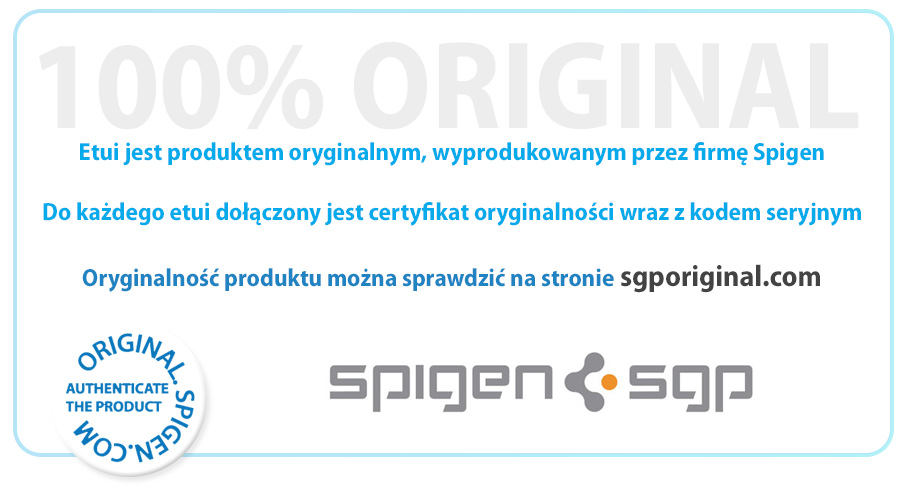 Etui jest w 100% oryginalne, zabezpieczone plombą oraz hologramem, 
posiada numer seryjny który możesz sprawdzić na stronie 
www.sgporiginal.com
Kupując na naszych aukcjach masz pewność, że:
Otrzymasz w 100% ORYGINALNY i sprawdzony produkt.

Kupujesz u sprzedawcy zgodnego ze standardami Allegro co obiecuje: Dobry kontakt ze sprzedającym, zgodność przedmiotu z opisem, szybki czas realizacji zamówienia, niskie koszty wysyłki.

Towar zostanie wysłany po zaksięgowaniu wpłaty lub złożenia zamówienia (pobranie) w ciągu 48H.

Otrzymasz dowód zakupu w postaci paragonu lub faktury VAT 23% będący podstawa do realizacji gwarancji producenta( w nienaruszonym stanie)

Możliwość odbioru osobistego w naszym sklepie oraz punkcie odbioru
Możesz zwrócić towar (w stanie nienaruszonym) w ciągu 14 dni bez podania przyczyny więc kupujesz bezpieczenie ! :)
Samsung Galaxy S6 SM-G920